The Joy Formidable have released a brand new single entitled 'The Hat' a maelstrom of noise and melody, it's the second of three to appear ahead of a UK tour that commences later this month.

"I feel like your own inner reflections can take on a sensation like being in space, alone in the gravity of your own uncertainty, drifting and off balance but aware of how beautiful and extraordinary life is," says singer Ritzy Bryan. "This new song has that sensation of being transported but also moving forward, a nod to the new aperiodic tile that never repeats and your own vow to 'never make the same mistake twice'."

'The Hat' is the follow-up to 'Cut Your Face', which was issued in early August and well received:
The band's 'Cradle You Again' tour commences on 20th September and includes several shows that were originally due to have taken place in the spring. Dates are:
20.09.23 GLASGOW King Tuts
21.09.23 LEEDS Wardrobe
22.09.23 MANCHESTER Academy 3
23.09.23 OXFORD O2 Academy 2
24.09.23 BRISTOL Fleece
26.09.23 CARDIFF The Globe
27.09.23 NORWICH Epic Studios
28.09.23 LONDON Clapham Grand *
30.09.23 PORTSMOUTH Wedgewood Rooms
01.10.23 NOTTINGHAM Rescue Rooms
*with the Wolf Orchestra

The tour has been preceded with appearances at the recent Beautiful Days Festival in Devon, dates in Taunton and Sheffield with Noel Gallagher's High Flying Birds, plus the Outwith Festival in Dunfermline this coming weekend (9th-10th September). The band have also added pre-tour headlining shows in Wrexham (7th) and Aberdeen (8th). Full details plus ticket info can be found HERE .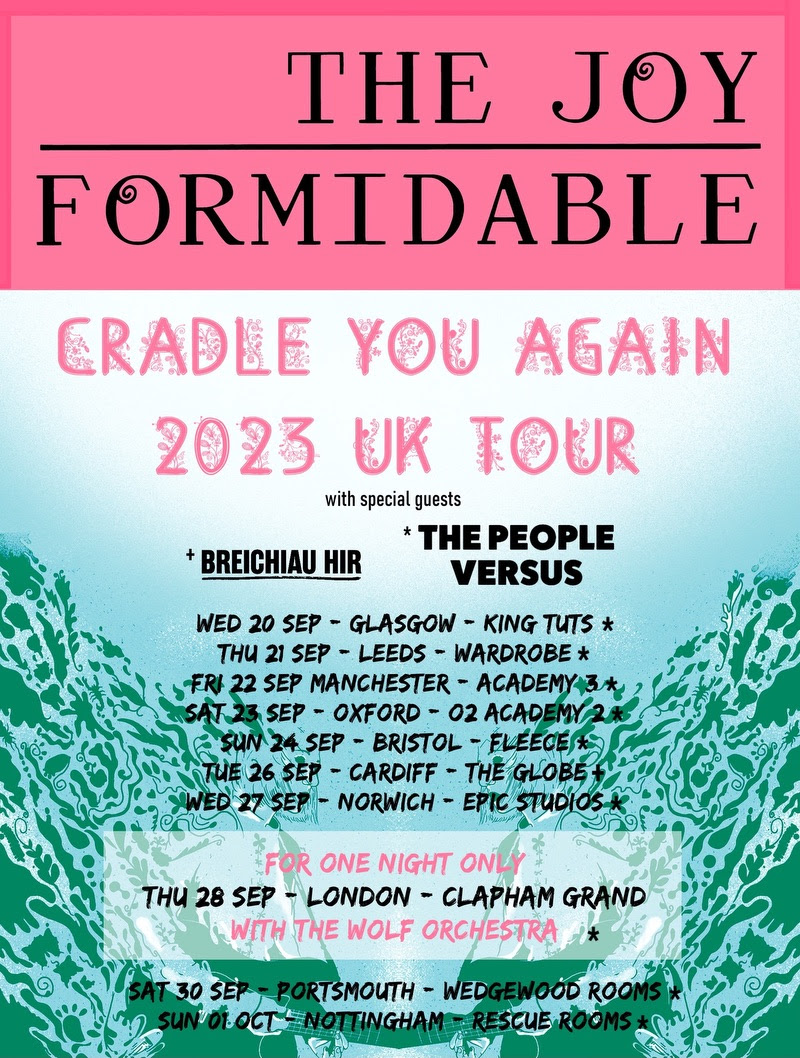 Comprised of lead vocalist/guitarist Ritzy Bryan, bassist/vocalist Rhydian Dafydd and drummer Matt Thomas, The Joy Formidable are originally from North Wales and currently split their time between there and Utah, "in the middle of nowhere" and the closest thing they could find in the USA to their home turf. Nevertheless, they have remained close to their loyal fanbase and launched TJF Music Club in 2019, with members able to request Backstage access, watch online shows and get exclusive songs and merchandise. It grew and evolved during the subsequent pandemic.

They released their most recent album, Into The Blue, in 2021, touring it extensively in North America. Commenting on what will be their first full UK tour in four years, Ritzy continues: "We are so looking forward to reconnecting with our UK fans again after a long time away. Our live shows are so special to us and we will be celebrating all our releases across this tour, including a special one night only orchestral show at the beautiful Clapham Grand. The Cradle You Again tour is a collective 'cwtch' to all our fans and a thank you for supporting us across the years.